On June 17, 2021 President Joe Biden signed the Juneteenth National Independence Day Act which made June 19 a federally observed holiday. However, what is Juneteenth and what are its origins? The legacy of Juneteenth began in Galveston Bay, Texas in 1865, two years after the Emancipation Proclamation was made which freed slaves from bondage following the Civil War. Despite the decree being given by the president, many states, especially those in the confederate areas, did not want to follow suit with the new law. Texas was one of the states which resisted. However, on June 19, 1865, over 2,000 Union troops arrived in Galveston Bay under the leadership of General Gordon Granger. Upon their arrival General Granger announced a series of orders including:
"The people of Texas are informed that in accordance with a Proclamation from the Executive of the United States, all slaves are free. This involves an absolute equality of rights and rights of property between former masters and slaves, and the connection heretofore existing between them becomes that between employer and hired laborer."
This statement left Texans with a mix of emotions and left previously enslaved African Americans with a new chance at life. Many of the freed slaves in the state would travel to other family in the North or leave to neighboring states. However, this direct emancipation in June left a lot to celebrate and was dubbed Juneteenth to continue celebrating the achievements and successes of African Americans. However, despite this freedom, all slaves would not be fully free until December 1865 when the Thirteenth Amendment was drafted into the Constitution.
In early years of the celebration, there was little engagement beyond African American communities. There was also strife from recreation areas and landowners to allow celebrations to take place. Thusly, many of the initial celebrations took place in woodsy, rural areas and featured barbecued food, fishing, and horseback riding. Churches were another space used for Juneteenth celebrations. One of the largest Juneteenth celebration sites, Emancipation Park in Texas, was gifted in 1898 from a $1000 donation. It saw and continues to annually see over 20,000 African Americans celebrating success, achievement, and excellence.
The holiday would make a massive resurgence during the Civil Rights movement in the 1950s and 1960s. It gained large traction from demonstrations in Atlanta where Juneteenth buttons were worn. Additionally, the Poor Peoples March to Washington D.C. in 1968 which called for "people of all races, creeds, economic levels and professions to come to Washington to show support for the poor," was followed by many barbecues and Juneteenth celebrations in different marchers' hometowns.
Today celebrations range in style. However, true to tradition, barbecues are held, music is played, speeches are given, and the marginalized lives of African Americans is highlighted. Juneteenth is a day of reflection, history, and reverence. It is a time to consider the past and its current impacts today. As people across the country celebrate Juneteenth on June 19 and observe it on June 20, celebrate African Americans and the achievements made in a landscape of adversity, agency, and marginalization. To learn more about the historic landmarks of African Americans and many of the strides taken by dispersed marginalized communities, below are some of the literary resources for adults and children offered at the Ames Free Library.
You can read more about the history and traditions of Juneteenth online, or find these books in the library's network to learn more.
Additional Learning Materials at the Ames Free Library:
Adult Literature:
On Juneteenth by Annette Gordon-Reed
Available on Hoopla and Overdrive/Libby
 "All too aware of the stories of cowboys, ranchers, and oilmen that have long dominated the lore of the Lone Star State, Gordon-Reed--herself a Texas native and the descendant of enslaved people brought to Texas as early as the 1820s--forges a new and profoundly truthful narrative of her home state, one with implications for us all. Combining personal anecdotes with poignant facts gleaned from the annals of American history, Gordon-Reed shows how, from the earliest presence of Black people in Texas to the day in Galveston on June 19, 1865, when Major General Gordon Granger announced the end of legalized slavery in the state, African Americans played an integral role in the Texas story."
The Warmth of Other Suns by Isabel Wilkerson
Available on Overdrive/Libby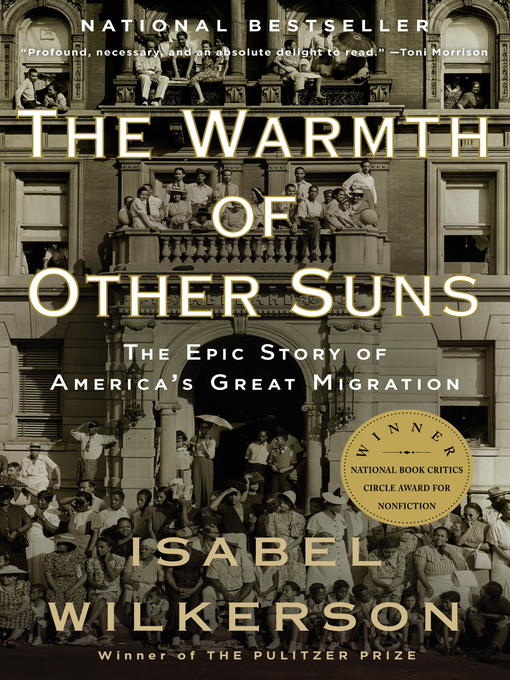 "With stunning historical detail, Wilkerson tells this story through the lives of three unique individuals: Ida Mae Gladney, who in 1937 left sharecropping and prejudice in Mississippi for Chicago, where she achieved quiet blue-collar success and, in old age, voted for Barack Obama when he ran for an Illinois Senate seat; sharp and quick-tempered George Starling, who in 1945 fled Florida for Harlem, where he endangered his job fighting for civil rights, saw his family fall, and finally found peace in God; and Robert Foster, who left Louisiana in 1953 to pursue a medical career, the personal physician to Ray Charles as part of a glitteringly successful medical career, which allowed him to purchase a grand home where he often threw exuberant parties."
Four Hundred Souls by Ibram X. Kendi & Keisha N. Blain
Available on Overdrive/Libby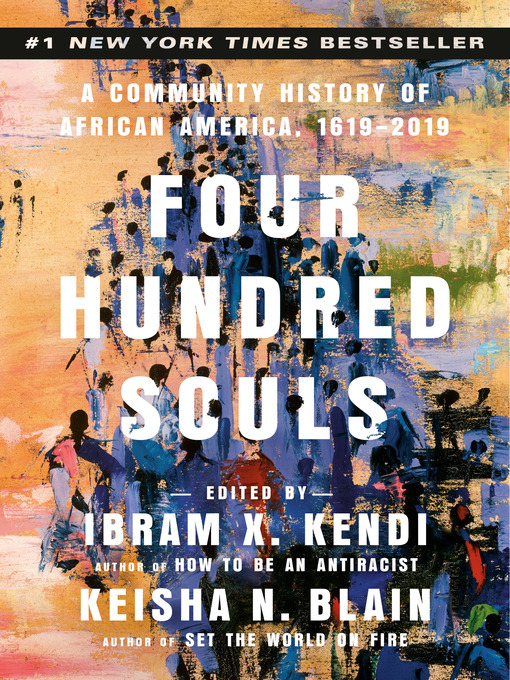 "Four Hundred Souls is a unique one-volume history of African Americans. The editors, Ibram X. Kendi and Keisha N. Blain, have assembled ninety brilliant writers, each of whom takes on a five-year period of that four-hundred-year span. The writers explore their periods through a variety of techniques: historical essays, short stories, personal vignettes, and fiery polemics. They approach history from various perspectives: through the eyes of towering historical icons or the untold stories of ordinary people; through places, laws, and objects. While themes of resistance and struggle, of hope and reinvention, course through the book, this collection of diverse pieces from ninety different minds, reflecting ninety different perspectives, fundamentally deconstructs the idea that Africans in America are a monolith--instead it unlocks the startling range of experiences and ideas that have always existed within the community of Blackness. "
Youth:
Juneteenth for Mazie by Floyd Cooper
Available on Hoopla and Overdrive/Libby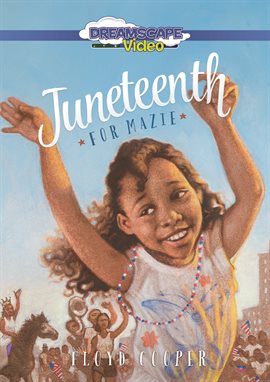 "Follow one little girl's experience as she gets ready to celebrate Juneteenth. From the publisher: Maize is ready to celebrate liberty. She is ready to celebrate freedom. She is ready to celebrate a great day in American history — the day her ancestors were no longer slaves. Mazie remembers the struggles and the triumph. This children's book will inform and captivate both children and adults." (Bookriot)
All Different Now: Juneteenth, the First Day of Freedom by Angela Johnson
Available on Sails Library Network Catalog
"Through the eyes of one little girl, All Different Now tells the story of the first Juneteenth, the day freedom finally came to the last of the slaves in the South. Since then, the observance of June 19 as African American Emancipation Day has spread across the United States and beyond. This stunning picture book includes notes from the author and illustrator, a timeline of important dates, and a glossary of relevant terms." 
Further Reading: