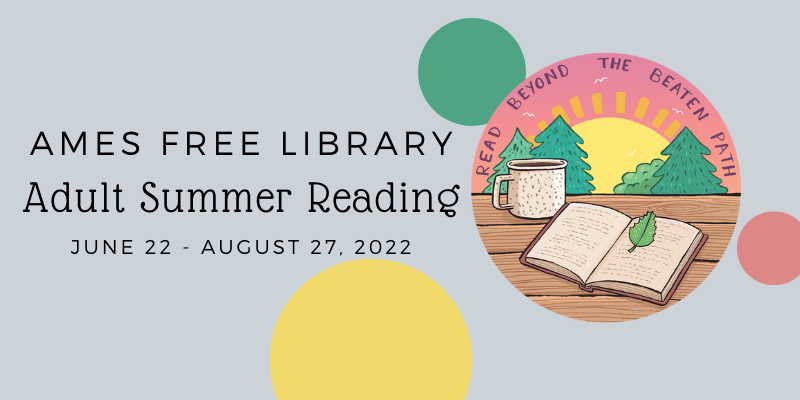 SUMMER READING PROGRAM FOR 2022 - "Read Beyond the Beaten Path"
Summer reading isn't just for kids!
The 2022 Adult Summer Reading program begins on Wednesday, June 22nd and ends on Saturday, August 27th. Participation and tracking will take place on the library's READsquared online platform.
READSquared is simple to use. You can access it online or download their app. You'll register using a login you create – and then it's one click for the whole family!
Earn badges and points you can use to enter virtual raffles based on how much time you spend reading and for writing book reviews.
And new this year -- you'll receive a BOOK BUCK just for registering to participate in summer reading! Stop by the Reference Desk once you've registered to collect your prize. Spend your BOOK BUCK on items from the sale cart at the library or in the Friends of the Library Book Sale Room at Queset House.
Earning Points:
Every 1 minute logged = 1 point
Every book review submitted = 140 points
Raffle:
Every 140 points = 1 virtual raffle entry
Use your raffle entries for a chance to win one of this summer's amazing prizes!
$50 gift card to Corfinio Italian Woodfired Kitchen (5 available!)
$50 gift card to El Mariachi Mexican Restaurant
$50 gift card to The Farmer's Daughter
$50 gift card to Hilliard's Chocolates
$25 gift card to Langwater Farm (2 available!)
$50 gift card to Maguire's Bar & Grill
$50 gift card to Paperback Junction
Raffle drawings will be held the week of August 29th.